Foie gras is a French delicacy that's enjoyed worldwide. It is basically a fatty liver of duck or goose. It is rich in fat, with a velvety texture and smooth and buttery flavour. The meat contains a variety of vitamins and minerals, which makes it highly nutritious. Initially, foie gras was made only from geese fatty liver, but geese being expensive and scarcity in availability, people used duck as a substitute which is available in every market and country at a reasonable price.
Foie Gras Gourmet provides the best quality of foie gras which is made through a natural process. They do business only with small businesses that ensure their foie gras retains its traditional and superb flavour. Each company has its specialists that produce good quality of foie gras.
All products are different from each other, which give you wide options to choose from. They ensure to deliver worldwide with free shipping if the order is greater than 69 euros in EU, 99 euros in USA and Canada, and 129 euros in other countries. While going through the website you will also know new facts and different recipes of foie gras and the best way of pairing wine and foie gras.
The benefit of using foie gras in your meal is that it can combine with any food and make it a delicacy. You can make a smooth spread and use it on toast or snack, mix it with wine and prepare a spicy and meaty sauce or you can make a savoury dish with foie gras along with a fresh leafy salad. However, the best way of consuming foie gras is with the right wine.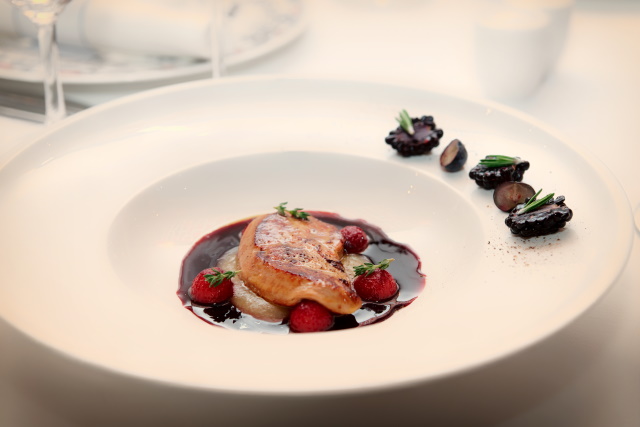 The traditional way of serving foie gras is with sweet alcohol like Sauternes and Armagnac. However, some special wines and champagnes also go well with foie gras.
Here is the list of few wines that taste blissful with a spoonful of foie gras –
Sauternes is a sweet wine with a tinge of ginger, citrus, apricot, caramel and butterscotch. Traditionally, foie gras is the best combination to Sauternes because the rich creamy texture blends with it well.
Rieslings are fragrant and fruity and their sweetness depends on which season the grapes were harvested. Foie gras goes well with their high acidic flavour.
Gruner Veltliner is an Austrian wine which highly acidic full of pepper and herbs flavour. Its citrus flavour mixes well with the creamy texture of foie gras.
The pink colour Pinot Gris is highly acidic with a tinge of pepper, citrus and stone fruit. It pairs well with fresh foie gras.
A fine Champagne goes well with foie gras whether it is an appetizer or meal. Champagne goes well with any food as long as it is cold and full of bubbles.
Chardonnay with less of oak flavour is the one that blends well with fresh foie gras.
Chenin Blanc is dry or sweet like Riesling, but with a tinge of quince, apple, honey and pear. It helps in balancing the rich and creamy flavour of foie gras.
There is a list of white wines that go with foie gras, but red wine like Bordeaux also match well with fatty liver. The herbal touch helps in bringing out a special flavour to the combination of liver and wine.
Barolo is produced from the Nebbiolo grapes, which are full acidic and alcoholic, and therefore it balances well with fatty foods.
Now that you have a list of white and red wines as well as champagne, you can try some of them and enjoy your freshly cooked foie gras or foie gras pate on snacks and crackers.